Exploring the PNW Waterfalls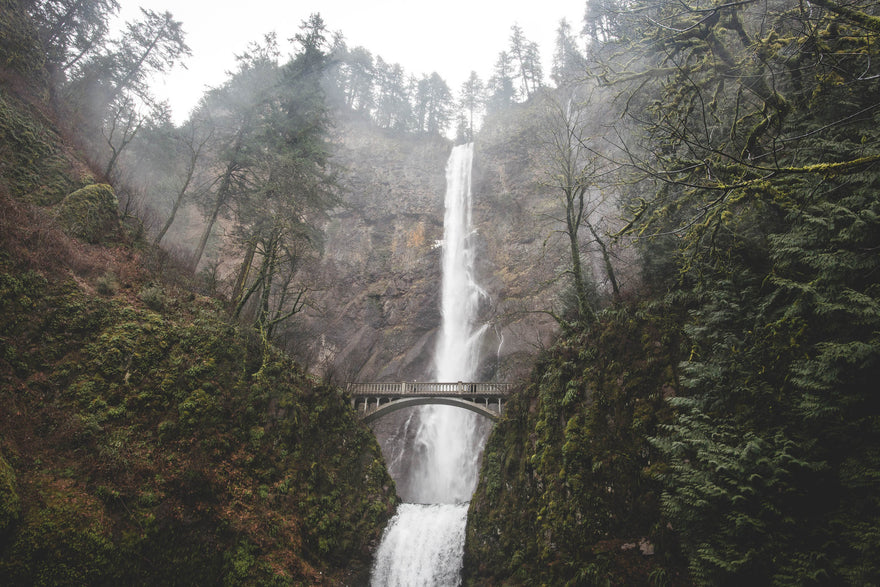 Last week I had the chance to meet up with two friends of mine Aaron and JT, both who are from just outside of Portland. A year back I actually visited this area on my west coast backpacking trip, but I mainly stayed inside the city. This year I flew into Portland with the goal of seeing the mythical place that these two guys call home. 
We crashed at a hotel near downtown Portland and the next morning we headed out to some spots 20 minutes away. Coming from the greater Toronto area, the only fall I have ever seen was the Niagara Falls, and between the casinos, bars and rainbow lights, it really was a bit of a disappointment. It also doesn't help that I drive past that tourist trap all the time. So I had absolutely no idea what to expect here in the PNW. Aaron took the wheel the next morning and we headed into waterfall wonderland. 
The first thing I noticed driving through those roads was how much elevation change there was. Comparing this highway (the Columbia River Highway) to the ones found near Toronto was hilarious. Back home, you wouldn't find a single curve. I was told that this used to be the main highway back in the day, before the flatter straighter 84 was added in right next to it. The road, in contrast to the 84, snaked and weaved through mountain roads often with incredible views of the gorge. JT sat in the back guarding our left over pizza stashed on the parcel shelf. 
There are a few moments during my travels that really left me speechless. This was one of them. I have followed Aaron's Instagram for a while now, and see images all the time. These seemingly foreign places to me look so out of this world it was difficult to imagine what it was like to see it with my own eyes. Our first stop was Latourell Falls.


The bridge in the bottom right corner gives you a perspective of how massive this thing is. It was always hard to get a sense of scale through images and the rushing water had so much energy. This place people called home was completely foreign to me. Sensual overload.




We hopped back into the car and headed to the next destination. Since Aaron was driving I had no idea where he was taking me. Multnomah Falls was the next destination, and instantly recognizable - I had seen this hundreds of times online. But I was seriously not ready for the sheer mass of water moving down this thing. Its genuinely incredible - even more so than in any images I have seen. We were a bit crunched on time since we wanted to drive up to Seattle afterwards, so we warmed up with coffee and snacks and got on our way.


We planned on heading up to Seattle for the weekend but I was insistent on seeing one more. After all - I felt like I was on another planet. This place was so unreal - I have never seen anything like it both in Europe or Asia. So we hopped back in the and continued east.
On the right side of the road, there would even be tiny waterfalls trickling off the side. Both JT and Aaron pointed this out as we drove further into waterfall wonderland. It was everywhere. We ran into Horsetail Falls somewhat unexpectedly and decided to make our last stop.
Aaron gave me a few tips on how he actually goes about shooting falls. I don't know why I was so impressed that he knew all the little details that made a good waterfall photo - he lives and breathes this stuff. 
 
In coffee we trust.
Before I left for this trip, my buddy who owns a print shop hooked me up with a ITEM Project pull over with a graphic I did. Shoot me a message if you think I should sell these. 
We finished the day with our goal of getting up to Seattle. Although I only spent one afternoon there, it left an impression on me. I actually plan on heading back in a few weeks when we don't have a time crunch. I would say a detour well spent though - and gave me a taste of why everyone raves about the PNW. 
---
---